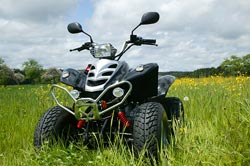 The introduction of the "S-Class" drivingg licence in Germany gave us the idea to build an economical, diesel-powered Quad.


This new driving licence gives the opportunity for young people from the age of 16 up, to run a Quad with a petrol engine up to 4kw, a cubic capacity of 55ccm and a maximum speed of 45kmph.


Unlike other petrol-engined Quads, the cubic capacity of a Diesel-Quad is unlimited, using the same power.


After intense planning, we managed to develop a high-grade frame for the Diesel-Quad.


It is due to the great cooperation with the Hatz-Diesel company (Ruhstorf a.d. Rott/Germany) that we could gain that well-known manufacturing firm of high-quality engines.


Our vehicle is an absolute world champion in fuel consumption: it only needs 1l diesel for 100kilometres!


The Diesel-Quad is tax-exempt and can be run with an insurance indicator.